Doula Mandy's patient story 2
A former client shares about her experience giving birth with Doula Mandy by her side.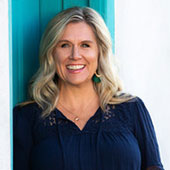 My husband and I were on the fence about hiring a doula as I had associated them with unmedicated births and an epidural was always in my birth plan. However, after attending a Rose information session, we recognized the benefits of having someone present that could be an advocate for me.
Mandy was present during that information session and both my husband and I felt a connection with her right away; Mandy possesses a calming presence that I knew would be helpful for me during delivery as I have a lot of anxiety around medical procedures.
I went into labor in the middle of the night and was 9cm dilated by the time the nurse was able to check. I didn't think Mandy was going to make it with such short notice, but she was there right away.
Mandy helped provide position suggestions that were the most comfortable during labor, had me check in with myself regarding my pain levels so that I could properly manage my medication, made sure I understood the information presented to me by the healthcare staff, advocated for me when I needed time to make decisions and when I could still feel pain after my epidural, and provided the emotional support that I needed when I decided to move forward with the physician recommend cesarean. Mandy also offered to take photos on our phone and I am so incredibly grateful that we have these to look back on; my husband and I were in no place to be capturing those first moments and now I will always have those photos to cherish.
Having Mandy present throughout the labor and delivery made me feel more confident that our baby would arrive safely and overall more relaxed than I would have been without her present. We are grateful Mandy was there that day and would recommend her doula services to anyone looking for support during their delivery.
Published:
January 03, 2022
Location:
Rose Medical Center
Related Stories
August 11, 2023
Rose Medical Center
A patient shares her experience giving birth with Shantell by her side.
February 01, 2023
Rose Medical Center
A patient of doula Emily Logan discusses their care and support they received during their unmedicated hospital birth.