Doula Lena's patient story 2
A patient of Doula Lena Winkler shares her positive experience giving birth at Rose Medical Center.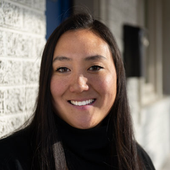 Lena did an amazing job as our doula! She was there to answer any questions leading up to the birth via text/phone call, which was really helpful as we had a lot of questions as first-time parents. During the labor and delivery, she assisted with moral support, breathing, helping me push, and providing an extra hand to the nurses.
She even took professional photos of the entire process, which were fun to see after the fact. She was very flexible and supportive of the way we wanted to deliver our baby, while at the same time providing guidance and information when needed. Overall, she made the birthing process much more bearable. Thanks, Lena!
Location:
Rose Medical Center
Related Stories
August 11, 2023
Rose Medical Center
A patient shares her experience giving birth with Shantell by her side.
February 01, 2023
Rose Medical Center
A patient of doula Emily Logan discusses their care and support they received during their unmedicated hospital birth.