Doula Jessica's patient story 3
A patient with initial reservations about using a doula shares a positive experience with Doula Jessica Long.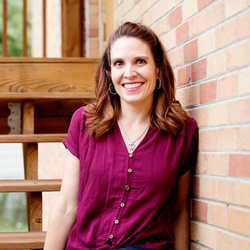 Being pregnant for the first time, I had a lot of suggestions from others who have had kids. A unanimous suggestion was to get a Doula. I had some reservations about it as I have a very involved, caring and compassionate husband that is a coach for a living. I struggled with if I needed a Doula. Since the suggestions were so strong, I did some research on the Rose Hospital website for a Doula. A video that caught my attention was Jessica Long's. She was compassionate and genuine and shared a bit about not only why she loves being a Doula, but about her own birth experiences. One of her experiences included what I was hoping for my birth plan, a natural birth and the euphoric feeling afterwards. What I also really enjoyed is her explanation of how important it is for her to be there for the couple and not just the birthing mother. She also mentioned something I needed to hear as she would serve as another advocate for the birth plan of our choice.
We were able to talk with Jessica before our birth in person via FaceTime and get to know each other. She matched up to her compassion we felt with her video and her calm demeanor. She was very excited for us and excited for us to live out our birth plan. I also loved how involved she wanted to be up to our birth as far as how our appointments were going. During our birth I can't give her enough kudos for how well she kept me calm and encouraged during labor. I had some moments of exhaustion and she worked with my husband to get through every minute as strong as I possibly could. She suggested positions and massage to help get me as comfortable as possible during birth and contractions. I'm realizing it is a workout not for the birthing mother, but for the Doula and husband also. It takes a village straight from the start!
I had the most amazing birth story I have shared with my family and friends and I will cherish it forever. She was able to work with my husband and myself to fulfill our birth plan, even when I was struggling and it was probably a little challenging for her. She never made me feel anything but strong and motivated to see my baby boy and focused on the end result because she herself knew the reward was going to be so euphoric and priceless. I couldn't thank her enough and my husband as well. She will be in our forever memories and have a special place in our hearts. I will make sure my baby boy knows about her when I can tell him the story! I recommend a Doula, but I really recommend Jessica Long!
Location:
Rose Medical Center
Related Stories
August 11, 2023
Rose Medical Center
A patient shares her experience giving birth with Shantell by her side.
February 01, 2023
Rose Medical Center
A patient of doula Emily Logan discusses their care and support they received during their unmedicated hospital birth.